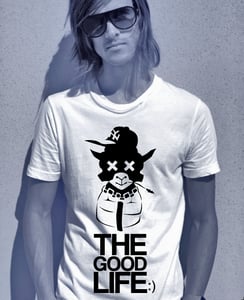 $

30.00
Standard cut that fits loose around the sleeves with a standard athletic fit through the waist.
Vision of the shirt design
This is a street artist's authentic-stencil-design interpretation of "The Good Life". The character represents people being sheep and feeding on the spin from the majority cultures like NY and other places. The grass in the mouth represents the character being fed and satisfied and the chain around the neck represents prosperity. You will notice the straight jacket which represents slavery to the American Dream and the x's over the eyes stands for ignoring blatant epidemics that we have the money, power, voice and resources to change since our lives are "Good". Last the "Mona Lisa" like smile represents how a life of self really leads to an unfulfilled joy. In light of this design, the horrors of sex trafficking and the vision of our company, we will give a percentage of each sale to non profits who are fighting the sex trade (IJM, DNA FOUNDATION, POLARIS PROJECT). Note this shirt is a limited Edition print and the first design of a series of "The Good Life" t-shirts.